What is the SeeMe system?
SeeMe is a modern, safe and fully computerized program for rehabilitation and physiotherapy, developed by Brontes Processing in cooperation with specialists (Arie Burstin, Riki Brown) from Beit Rivka Geriatric Rehabilitation Hospital (Israel). This is a modern approach to rehabilitation, which is fun for the patient. This form of a session, from the psychological point of view, brings many positive aspects, which result in stronger effects - desired in terms of improving the functioning of the people undergoing the rehabilitation.
The main advantage of the SeeMe system is the possibility of adapting it to individual needs, goals and scientific interests of our partners through the possibility to order specific applications, according to the idea of people working with the SeeMe program.
SeeMe elements
SeeMe Manager
SeeMe Manager is not only a tool to manage patients database. It allows individual planning of the trainings for each patient, it allows also generating reports of the results of treatment, adjusting task's parameters while patient is playing, taking notes, etc.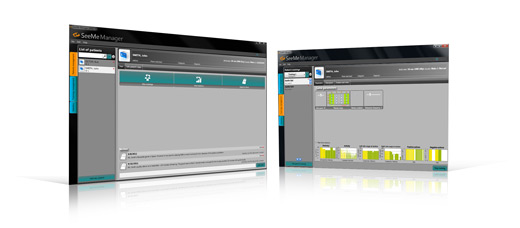 SeeMe Tasks
SeeMe contains several tasks with plenty of parameters and levels. Patients usually start with WarmUp, which is a set of 3 simple plays, which are intended to get the patient acquainted with the technology. The patients observe that their actual physical moves do affect the objects in game. Besides WarmUp - SeeMe includes another 6 games/tasks. The patient - being part of the game - carries out the physiotherapeutic exercises parameterized by the therapist. The utilization of games in rehabilitation makes patients approach the exercises with greater commitment.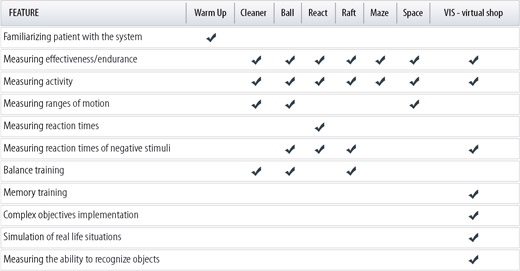 More details about the tasks/games:
SeeMe Additional modules
There are also additional modules for SeeMe. Virtual Interactive Shopper is a task where patient needs to undertake real life problems that occur while shopping. It measures patient's ability to remember the shopping list, ability to choose appropriate shop for the products needed and finally ability to locate the products on the shelves. Virtual Interactive Shopper module is additionally paid.
What hardware does SeeMe need?
SeeMe works best with following hardware:
A computer system with at least 2 GHz processor
An Nvidia or ATI graphics card (e.g. Nvidia Geforce 8600 GT)
A Microsoft's Kinect controller (Normal webcam can also be used for testing purposes, but not all functions and modules are available in webcam mode)
It is most comfortable to work with 2 monitors. One monitor is used for the therapists panel and the other for playing games. In this scenario therapists have real time preview of the patient's results
SeeMe is normally sold as software only. No hardware is included by default. If you would like to buy a complete system with all hardware – please contact us.